Why Organizations Choose iMIS — and the iMIS Ecosystem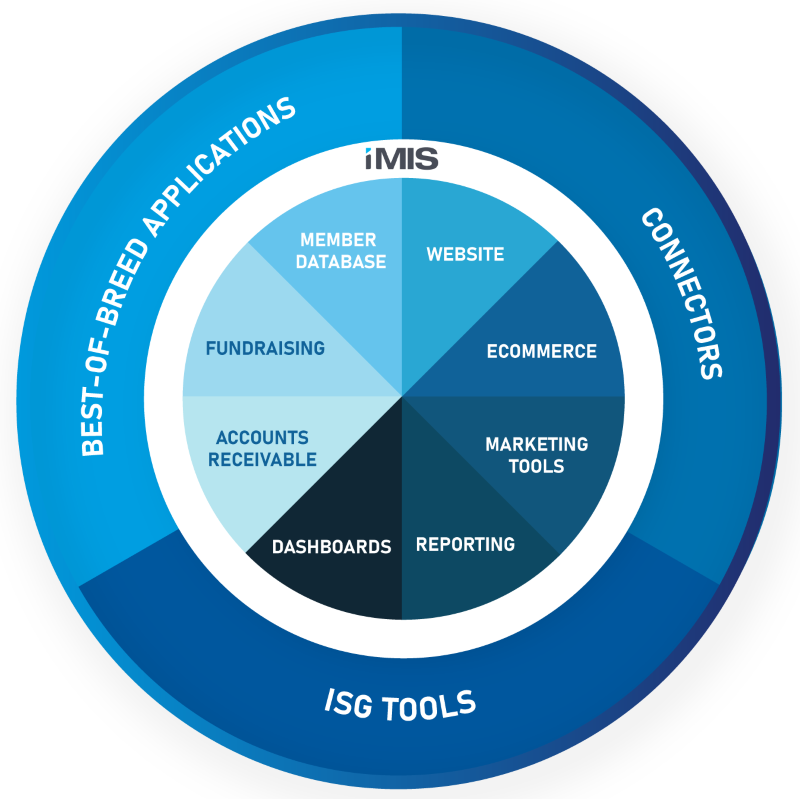 iMIS Ecosystem
iMIS is the only engagement management system (EMS) purpose-built for associations and nonprofits. With all baseline association and nonprofit functionality baked in, iMIS provides a solid foundation for your operations.
What's more, there's an entire ecosystem built around iMIS that delivers additional capabilities that enhance your capacity to operate more effectively, improve day-to-day processes for staff, and increase your organization's value proposition for members, customers, and clients.
What the iMIS Ecosystem Provides
For associations that want to institute a learning management system (LMS), award scholarships through an online process, or manage a collection of abstracts, there are third-party ecosystem products that can provide that functionality.
But the iMIS ecosystem is far more muscular than that. Third-party vendors supply a wide variety of products that integrate with iMIS to extend and expand your organization's capabilities — with more options being added to the iMIS ecosystem all the time.
Here is just a sample of third-party products that integrate with iMIS, most of which can be found in the iMIS Marketplace:
How ISG Goes Even Further
At ISG, we offer our own range of iMIS ecosystem tools — products and integrations — designed to provide additional functionality, including:
And we're expert integrators who know how make third-party iMIS ecosystem products and our own iMIS ecosystem tools work perfectly with your iMIS system.
Why Associations and Nonprofits Choose ISG
ISG has been delivering award-winning technology services and solutions to clients for 30+ years that leverage technology to help associations and nonprofits reach peak performance and optimize outcomes.
We're especially well known for nurturing long-term relationships with our clients — relationships that allow ISG to learn the ins and outs of each organization and tailor solutions that help you achieve your goals.
How to Take Advantage of the iMIS Ecosystem
Ready to leverage the iMIS ecosystem so your organization can do more, do it faster and more efficiently, and do it in ways that are seamless, easier for staff, and better for your members, customers, and clients?
Contact sales@isgsolutions.com. Let ISG take care of your business so you can focus on the business at hand.