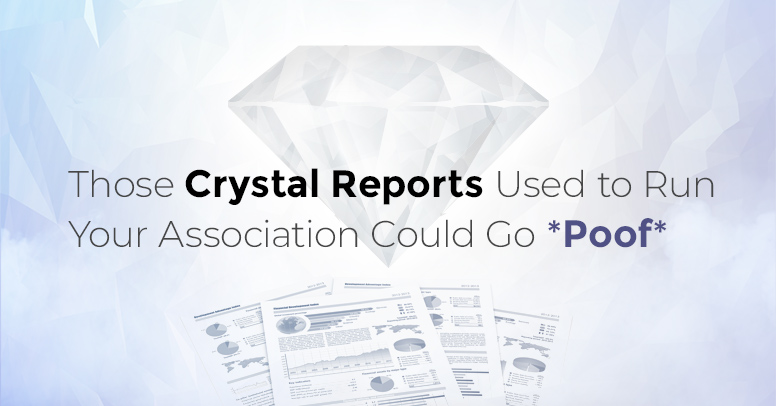 Associations have spent thousands of dollars having custom Crystal Reports made for them. What if one day, after a much-needed upgrade to iMIS, those reports were gone? Poof!
It could happen. iMIS RiSE Staff Site does not give you the option to run the Crystal Reports you have invested in and relied on for years.
Most associations consider reporting an essential function and tool. Custom Crystal Reports meet your unique needs, including membership rosters, event lists, badge reports, certificates, membership cards, and many others. These reports can be run by the staff in the Rise Staff Site or by members in the Rise Member Site.
For years, ISG has been hearing that the investment in Crystal Reports was preventing associations from transitioning to the Staff Site. While iMIS RiSE Staff Site delivers many great features to improve productivity for your staff, the reports currently written in iMIS desktop will not render on the web.
What now? The investment in the development of the reports and staff training shouldn't just be tossed aside. That's why ISG developed Crystal Reports Viewer for RiSE.
The Viewer lets you reap all the benefits from RiSE and continue to use the multitude of custom Crystal Reports that are the lifeblood of operations. And, it all happens right in your RiSE site.
Crystal Reports Viewer for RiSE does more than simply run your Crystal Reports. It tightly integrates the reports by uploading them into the iMIS database, taking advantage of URL parameters for personalized self-service Crystal reports. The viewer allows you to reuse the same report throughout all RiSE webpages and sites and to continue to use Crystal Reports as a report writer for future reports.
ASI plans to discontinue use of the iMIS desktop in 2019. ISG's Crystal Reports Viewer for RiSE is ready to install on iMIS today. We recommend moving forward with ISG's Crystal Report Viewer now, so you can configure your Staff Site with your Crystal Reports and not be impacted when the desktop goes away.
We can help you set up iMIS Staff Site and your Crystal Reports to help your organization move beyond old barriers and enjoy all the benefits of both tools. Your staff will keep their valued reporting tools and gain several new tools that make their work easier.
Learn all about Crystal Reports Viewer by ISG — register for a Crystal Reports Viewer webinar!