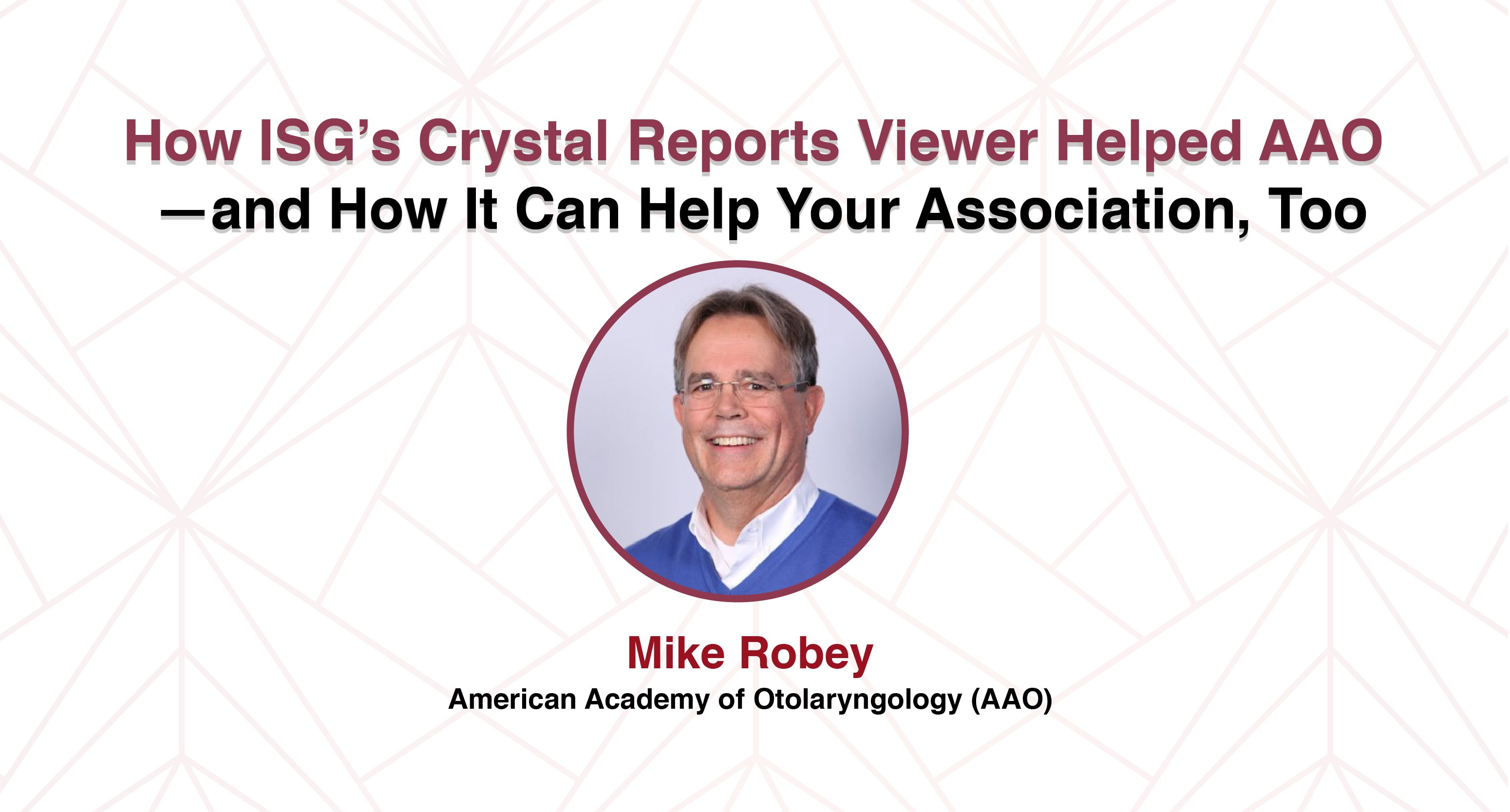 In past blogs, we've discussed the benefits of using the ISG Crystal Reports Viewer with iMIS RiSE to seamlessly access and view all of your standard or custom Crystal Reports online, from any location. No matter the size or scope of your reports, the ISG Crystal Reports Viewer has you covered.
But how does that report access translate to better service for your association and its members? I recently spoke with Mike Robey, Senior Director for IT at the American Academy of Otolaryngology – Head and Neck Surgery (AAO-HNS), on the topic and he shared AAO-HNS's experience with the ISG Crystal Reports Viewer for RiSE.
Report Access Leads to Optimized User Experience for AAO-HNS Members
Currently, AAO-HNS is making the move to iMIS RiSE, recently launching their online portal to give their members access to any personal information that's recorded in iMIS — a feature that's increasingly important due to what Mike refers to as the Amazon Effect.
AAO had to figure out a way to take six specific Crystal reports their staff had run in the past, retrieve them from the iMIS desktop, and make them accessible for their members remotely. By using the ISG Crystal Reports Viewer, they were able to do just that by repurposing the existing reports and making them directly available to their members, without having to request them from member services.
"By incorporating the ISG's Crystal Report Viewer for RiSE, our members are now able to simply click on one tab in our self-service RiSE portal and view all of their past orders, gift receipts, association dues, invoices — even any disclosure forms that they're asked to sign as a member of AAO-HNS," said Mike. He went on to say that using the ISG's Crystal Reports Viewer for RiSE in tandem with iMIS RiSE allowed them to give their members the full user experience they've been asking for. "The Viewer really took the iMIS RiSE system to the next level by putting the experience of downloading and printing their own receipts, viewing reports, etc. back into the members' hands."

Using the Crystal Viewer for iMIS has saved AAO-HNS a great deal of development time and money, and it will continue to do so in the future. According to Mike, "any type of Crystal reporting needs that we might come up with in the future as we grow as an organization can readily be rendered now that we're using the Crystal Viewer."
The American Academy of Otolaryngology – Head and Neck Surgery (AAO-HNS) is an Alexandria, Virginia-based organization with more than 12,000 members, including physicians, advanced practice providers, residents, and students. They've been using iMIS for their association management needs since 2002.
Interested in learning more about what the ISG Crystal Reports Viewer can do for your association?
Register for an upcoming webinar: Crystal Reports Viewer for RiSE or watch one of our archived webinars here.
For even more information, please contact us at (301) 519-3776 or email sales@isgsolutions.com.