When an association prepares to redesign their website, it's a great time to create or revisit their personas. A key element in user-centered web design, personas are fictional representations — based on research and real data about your existing members — of the different types of people who belong to the association and use the website.
Understanding your members is essential to the success of any endeavor, and most associations include several membership types, including professionals, students, institutions/businesses, suppliers, affiliates, and more. Developing a persona for each type transforms them from an anonymous target market into real people, with whom you're developing a relationship. Personas help your web design team understand what members want and how you can deliver it.
Personas can be particularly helpful in web design because members visit the association website for a variety of reasons. Finding what they need directly impacts their satisfaction with the web experience and with the association as a whole. Detailed, accurate personas help focus decisions about specific components of your site by allowing more in-depth understanding of the real-world needs that drive web traffic.
Personas also contribute to prioritizing features, functionality, specific content, and overall structure of the site. They provide an intuitive approach to testing quality and usability throughout development. Conversely, prioritization of the different personas and their needs will facilitate the many decisions necessary during web redesign.
User research and web analytics play important roles in the process of creating personas. Fictional and representative, personas must be based on characteristics and behaviors of real-world, existing website visitors. You want to understand who the visitors are, how they are using the site, what they need to do, and what expectations they bring.
For example, let's say an association has recently added a new membership level for students. The new website design needs to factor in the needs of this new type of member. Let's create a student member persona.
The first step in creating a persona is to make it personal, providing a name, photo, and demographics for the persona. These steps make the persona memorable and more meaningful to your team, especially to web designers.
Based on the association's current membership data, a typical student member is:
Female
Age 19-22
Single
In college
Majoring in marketing or communications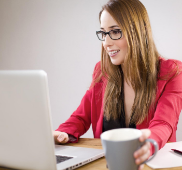 Based on this info, we create a persona for "Judy Dunn." Judy is 21, in her senior year of college, majoring in communications at the University of Virginia. She is getting ready to look for a job, and is worried about the number of people she will be competing with to work at a top agency. She has joined the association to begin networking in her field. We found a stock photo (free) to visually represent Judy.
The persona can then be fleshed out with details, using data – quantitative user research, web analytics, and information from talking with members – that have been gathered by the association about this type of user, their environment, and their motivations.
Additional detail should be added about the motivating factors that drive engagement and provide an understanding of what the persona is seeking when they use the website. You can get this information by talking to current student members or to students who would be good candidates for becoming a member. Ask them why they joined the association, how they expect to take advantage of their membership, what services they would like to have, and how they plan to use the website. Do they expect to learn more about the industry? Attend events to meet and connect with industry professionals? The answers to these kinds of questions—for every persona—guide web development and priorities.
Creating member personas can be a significant investment in time and effort. The research needed to flesh out the profiles may not be trivial, but it pays dividends in member satisfaction, especially in their use and engagement on the association website, which often serves as the primary, most frequent interaction that members have with an association.
A satisfied member is a retained member, and your website should serve as a gateway for positive interaction and relationship building with members. People should feel like your site was built just for them and their use. To learn about how ISG and iMIS 20 can serve your association and members, visit our website, or give us a call at 301.519.3776.