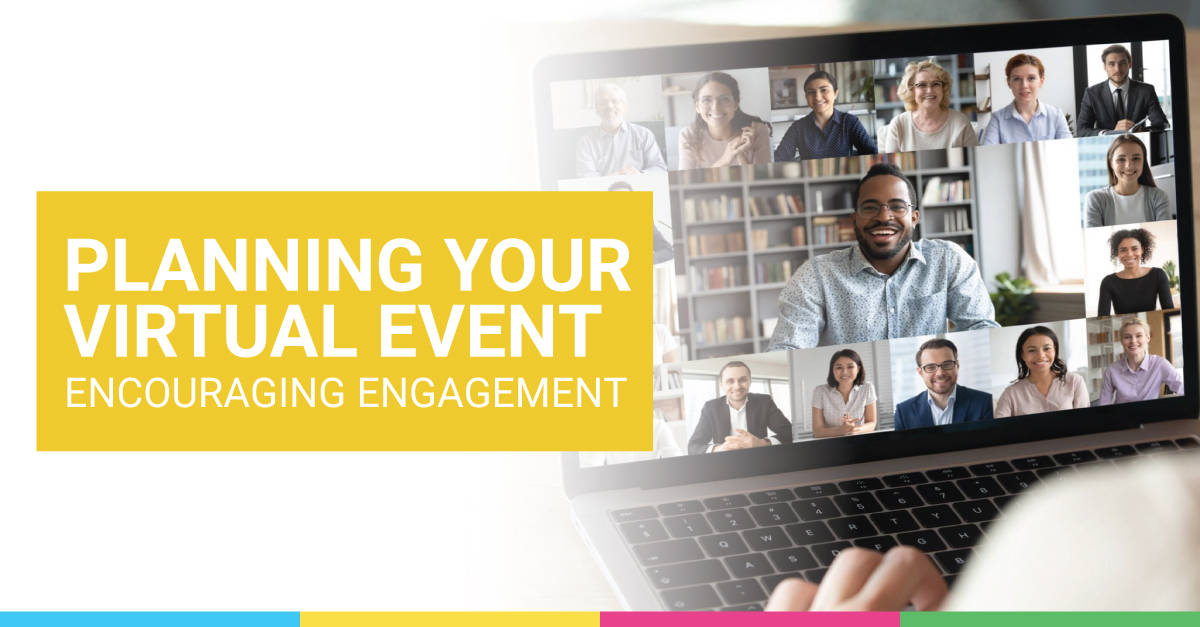 At a virtual event, the more participation you have, the better. Period.
Unlike in-person meetings and conferences, virtual events are attended through a computer screen, which means distraction is just one click away.
This can make engagement a challenge, but with the help of technology and a little creativity on your end, you can easily design online events that are more than just people watching their screens.
To encourage engagement and virtual communication among speakers and attendees, build opportunities for networking and authentic interactions right into your event program. You can create virtual meeting spaces, networking get-togethers, and breakout sessions — even a virtual lobby or lounge where people can hang out between sessions.
Also, do your best to avoid scheduling keynote speakers, exhibitions, and tutorials back to back. With room to breathe, participants can chat and connect with one another during your virtual event just like they would at an in-person event.
Promote Engagement Before Your Event
In our last blog, we talked about releasing content prior to your event — it's a great way to draw in potential attendees early and get engagement off to a strong start.
Use your social media platforms and your website to share information about the upcoming event, and introduce tools for how to best navigate the virtual conference. Another effective communication avenue is an online forum where you can update your audience about major announcements and changes to the schedule, create polls to find out what attendees expect from the event, and give them a chance to weigh in when you're choosing speakers and planning content. (More on that below!)
Use Interactive Features
Once your event has kicked off, breaking the ice with your virtual audience can be a little trickier than meeting face to face. Fortunately, there are interactive features to help.

Polls: Choose an event platform that includes polling technology and widgets for surveys. If you conduct a poll during your event, make it even more interactive by tabulating the results in real time and showing them on the event dashboard.
Also, encourage your speakers to incorporate questions into their presentations through the polling function. Some of these questions can be to determine how much the audience knows about a given subject. Other questions can just ask for an opinion about a certain topic. Both help to create connections between attendees and generate content and interactions.

Q&A Sessions: You can send an email to registrants before your event to encourage them to send in any questions they have about your industry, or allow them to submit their questions through your event's social media pages.
When you announce breakout sessions or special panel discussions on your website, Facebook, and LinkedIn pages, suggest that questions be left in the comments or shared with you via direct message or email. Just remember: You'll need a moderator to filter these questions during live sessions, as it's extremely difficult for a presenter to handle both.

Online Roundtables: Breaking off into smaller chat groups or rooms encourages audience participation in a more intimate setting. Plus, it gives attendees a way to meet and talk about more specific topics or business ideas. Include a moderator in roundtable settings to manage the conversations and keep everyone from talking over one another.
Keep the Interactions Going — Even After Your Event Is Over
Just as you can stir up excitement leading up to your event, you can keep the energy going long after the event has wrapped.
Rebroadcast your presentations at scheduled times and allow viewers to still comment or ask questions using the chat functions. As long as you have someone there to moderate the conversation, you can do this at any time to boost engagement.

Repurpose your content into a highlight reel or mini videos that you can share as a virtual series. Post these to all your social media outlets over the course of the year to promote your annual event.

Offer sessions on demand at any time. You can provide this as a free service or for a fee, to drive year-long revenue. Either way, giving people access to your content will get them excited for upcoming conferences whether or not they've attended in the past.
Remember: While your event may not look exactly how it did in the past, there are arguably even more opportunities for engagement in a virtual setting.
With the right planning and forethought, you can proactively promote your event and provide the infrastructure for engagement to keep people interacting not just at the event, but year-round.
Tell us: Have you attended a virtual event this year with exceptional engagement opportunities? What worked? What fell flat? Share your experience in the comments below.
Are you ready to get started now?
We've collaborated with our association partners to think outside the box when it comes to planning world-class virtual experiences.
In our FREE white paper, Reimagining Events for the Virtual World, we include everything you need to know to plan, promote, and execute your next virtual event.