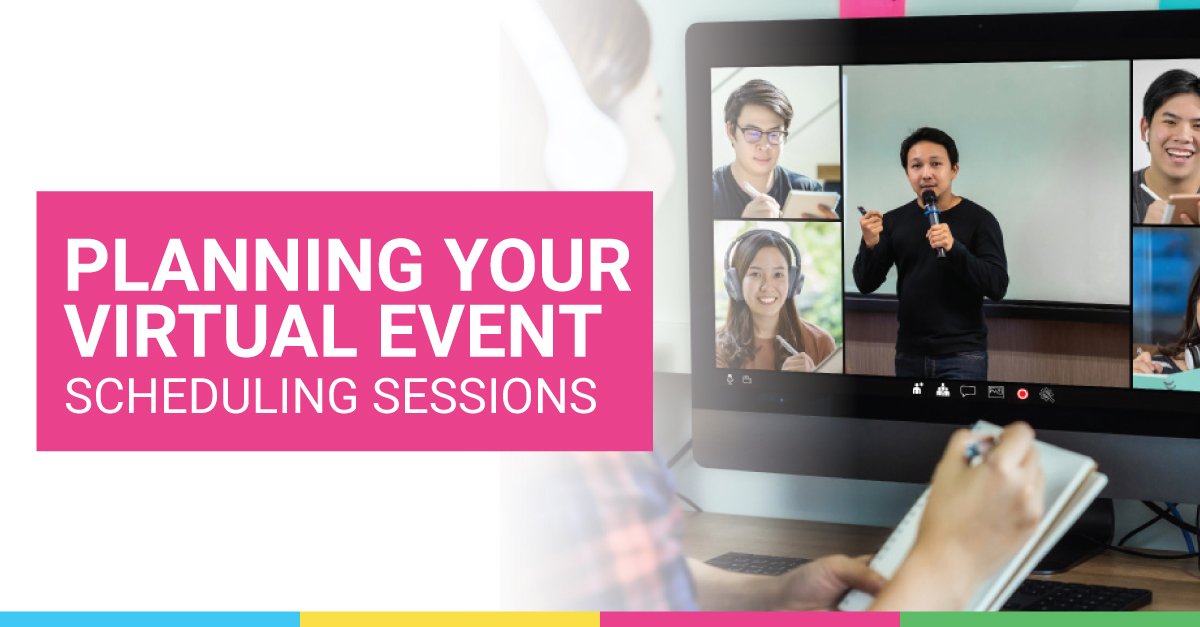 One of the most important benefits of a virtual event is the opportunity to reach a larger audience.
With no travel involved, your attendees' time is more flexible — and you can cover more content in a shorter period of time.
To take full advantage of these time-saving benefits, you need to create an event schedule that's well planned, from start to finish.
Step 1: Choose the Right Time
Deciding on the right date and time for your event is crucial, regardless of attendance size or platform.
Double-check the Calendar
Before you launch a promotional campaign online or send out virtual "save the dates" to your network, do a little research to ensure you've picked a smart time for your event. Make sure there are no other industry events scheduled or major holidays that could negatively affect attendance.

Consider Time Zones
Do you plan on reaching an international audience? If so, pick a time that works for as many of your attendees and exhibitors as possible. We understand that this issue can cause some complications. To combat those issues, create recorded content for those who aren't able to attend the scheduled presentations as they air live. That way, attendees can view the presentations when it's convenient for them. It may also be worthwhile to plan multiple networking sessions to accommodate participants in different time zones.

Tap Into Analytics
Before planning your event, check your online analytics to see when your community is typically online. For an even firmer consensus, send out or post a poll asking your audience to weigh in on potential event dates and times. Even something as easy as an Instagram button gives your audience the opportunity to vote — all while getting people to engage with your event. It's a win-win!
Step 2: Schedule Your Sessions
Before you set the agenda for your event, ask your audience these questions:
How much time can you spend at the event each day?
How many sessions would be reasonable for one day?
Would you like designated time to visit sponsor booths during the day?
Would you like the opportunity to network during the day?
The answers you receive will help you develop a schedule that's more likely to appeal to a variety of registrants. Once you have those details sorted out, consider these tips for creating your agenda:
Release Content Early (but not too early)
Unlike in-person events, where people register several weeks or months in advance, registration for virtual events typically hits its peak one to two weeks before the event. Because of this, you'll want to schedule content to be released prior to the start of your event, but not too early.

Prioritize Day #1
Attendance at a virtual conference is usually highest on the first day, so you'll want to schedule the best content to take place early. The first day sets the stage — keep it upbeat with pre-recorded welcoming remarks, panels, and opportunities to break out and network with other attendees.

Beware of "Screen Fatigue"
To keep your audience engaged and entertained, make sure your event schedule covers a wide variety of topics — and deliver that content in bite-size portions. Keep sessions under an hour (45 mins or less) and the daily schedule concise (translation: not spanning an entire day from 9am – 5pm like an in-person event) so more people can attend. Also, if you do lose attendees over the course of the day, entice them to come back by closing out with a high-value session.

Plan for Breaks
Being online doesn't mean you should disregard the little things that make an event manageable. Schedule breaks for your attendees. Even if it's only 5 minutes, people need a little time to transition from one session to another. During longer breaks, tell your attendees how they can spend their downtime — network with peers, visit sponsor booths, or visit the resource gallery.
Step 3: Organize Your Sessions
Once you have the particulars of your event nailed down, it's important to build a detailed schedule that your attendees can easily follow.
Organizing your presentations and workshops by topic allows attendees to easily find the sessions and meetings that interest them most. This is especially helpful if your conference has a large number of presentations scheduled.
In your event management platform, add filters to your agenda so attendees can sort sessions by topic, speakers, and time. This gives people the ability to view all their options and build a daily plan that works for their schedule.
Have you attended a virtual event this year? If so, did the scheduling work for your needs? Was it too long? Too short? Do you feel like you were able to get the most out of the event? Share your feedback in the comments below.
In our next blog, we'll dive into event engagement and all the things you need to know to get people to interact at your virtual conference. It may sound impossible, but there are actually plenty of smart ways to facilitate event engagement — even in an online format. Check out the next blog for our expert tips on the topic!
Ready to Get Started?
We've collaborated with our association partners to think outside the box when it comes to planning world-class virtual experiences.
In our FREE white paper, Reimagining Events for the Virtual World, we include everything you need to know to plan, promote, and execute your next virtual event.