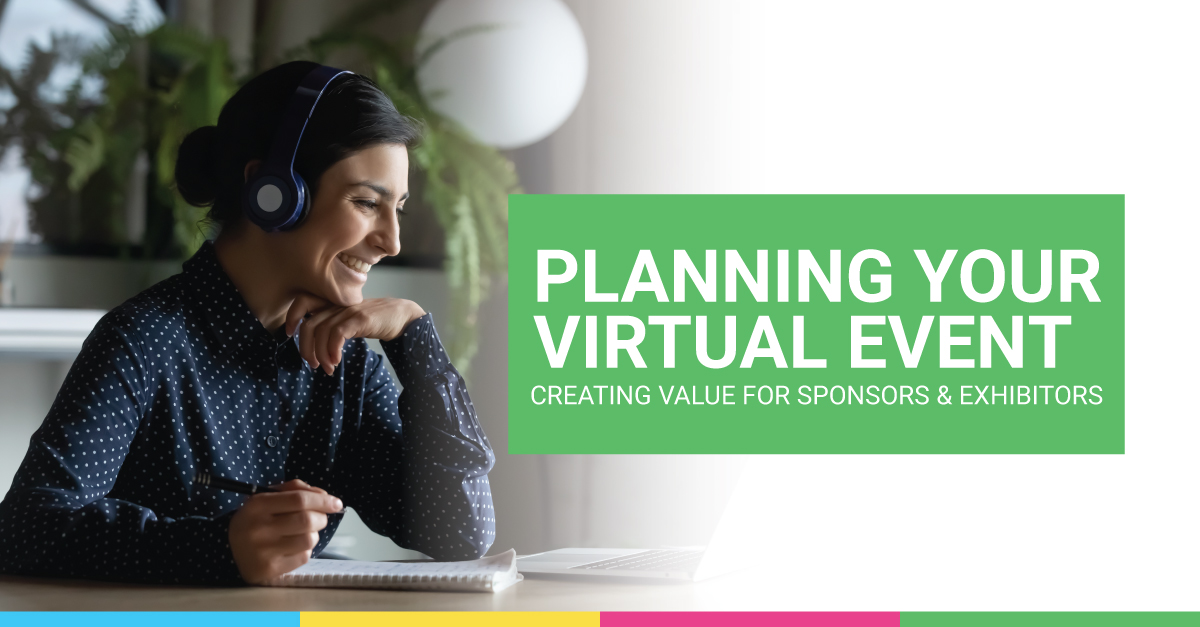 Exhibitors and sponsors are vital to your event's success — and they shouldn't go away just because you're moving to a virtual format. In fact, quite the opposite.
Here's how a dynamic, user-friendly event platform can provide innovative and interactive ways to highlight your event's exhibitors and sponsors — and deliver real value to your attendees by connecting them with people, products, and services that could benefit their businesses.
More Opportunity for Increased Attendee Interaction

With virtual events, your exhibitors and sponsors have the opportunity to be in front of attendees the instant your event website goes live.
As part of their package, offer dedicated space on your site where they can include downloadable materials, videos, demos, and contact information. On your social media pages, build in opportunities for networking through comment boards, live chats, or virtual breakout rooms or groups.
After your event ends, the event portal and social media pages can still be used for continued exposure for weeks, months — as long as you want, really, as long as you keep them open and available.
Fewer Staff Required and Greater Reach

In a virtual event where you're orchestrating pre-recorded sessions, breakout rooms, and live speakers (potentially), there has to be more structure.
This means your sponsors and exhibitors will receive the bulk of their attendee traffic during specific windows of time throughout the day. We suggest building time into your event schedule for attendees to visit "exhibitor booths" much like they would at a live event. Sponsors and exhibitors also have the opportunity to schedule virtual meetings with attendees for a specific time.
This format means exhibitors and sponsors can schedule their staff according to when attendees will be visiting, so they won't always need someone on hand — a benefit that saves them time and, often, money.
Innovative Sponsorship Opportunities

Perhaps the biggest benefit of a virtual conference or meeting is the unique sponsorships, opportunities, and experiences you can offer that are designed specifically for online events.
Sponsored Sessions. Presentations — especially keynotes — tend to receive a lot of attendee traffic, which makes them a smart option for sponsorship. Sponsors can kick-off or close a session with a short presentation, or they can purchase a branded background to be displayed for the duration of a session. They also can have their logos placed on the agenda page or within the specific session page.

Exhibit Hall Sponsorships. A virtual exhibit hall, complete with a gallery view of sponsor logos, is a great way for exhibitors to post materials and generate conversations with attendees. You can price these similarly to an in-person event, where the top of the page is a higher price point, for example.

Sponsored Networking Events. Just because you can't meet in person, that doesn't mean the human interaction has to come to a screeching halt. By incorporating virtual networking events, you give your attendees a chance to meet and network — all while providing another unique opportunity for sponsorship. These can be exclusive activities, such as wine tastings or wellness sessions, or something that's offered to all attendees, like a virtual scavenger hunt, game night, or cocktail hour.
No matter how you approach your sponsors and exhibitors, just remember that this is new territory, so they may need a little bit of coaching prior to your event.
To help them make the most of the virtual-event experience, coach your sponsors and exhibitors on how to engage virtually with attendees. Provide them with tips for making their virtual booths or exhibits more attractive and entertaining, and work with them to encourage engagement through chat, polling questions, story sharing, or testimonials.
If you've attended a virtual event this year, we want to hear from you! How did you engage with sponsors and exhibitors? What types of sponsored activities did you most enjoy? Share your thoughts with us in the comments below.
Are you ready to get started now?
We've collaborated with our association partners to think outside the box when it comes to planning world-class virtual experiences.
In our FREE white paper, Reimagining Events for the Virtual World, we include everything you need to know to plan, promote, and execute your next virtual event.