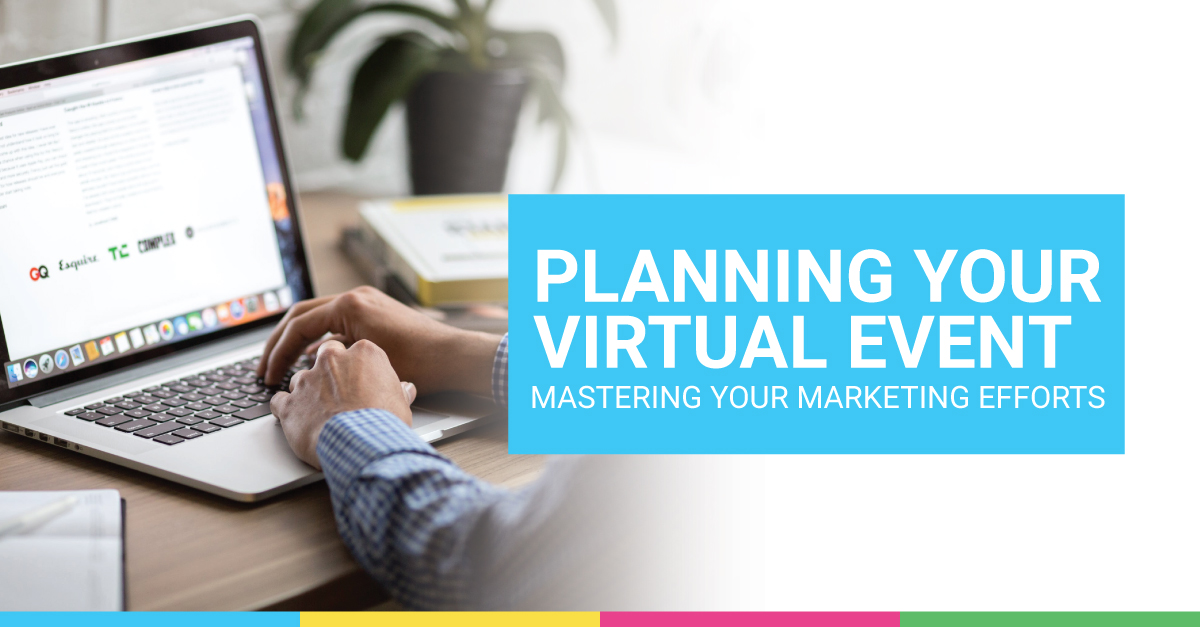 Building a virtual event from scratch is no small undertaking — and that's before you even start thinking about promoting it.
While your marketing efforts for a virtual event don't have to span as long a time as they would for an in-person event, they do have to be effective. And, fortunately, there is no shortage of virtual tools available to help you create and carry out an effective marketing strategy for your event.
Here are five go-to tips to make your event stand out from the competition, engage your target audience and, ultimately, drive registration to your online event.
Determine your key selling points.
First, determine the key selling points your event has to offer. Focus on speakers, exhibitor information, and opportunities for networking. That value proposition is critical — especially when you're promoting a type of event many may have not experienced.
Create a web page for your event, share the schedule, and highlight event details through emails and social media posts. Send email updates to remind registrants why they signed up in the first place, so they're sure to show up and stick around.
Be clear about what your event includes.
Provide your audience with realistic and specific expectations. Not all virtual events look the same, so spell out what makes yours different.
Will all sessions be pre-recorded, or will there be live presentations? Will audience members have the opportunity to ask live questions and engage with speakers? How long will the event run? Will there be a single schedule to follow, or can attendees pick and choose the sessions they want to attend?
Be as detailed as possible to make sure the right people are registering for your event.
Create professionally-recorded promotional videos.
Video content is king — and a great way to get audiences hooked and excited about what your virtual event has to offer.
When you create videos to promote your virtual event, you not only share information in an easy-to-digest way, but you position yourself as a tech-savvy industry leader. Short videos shared on social media can help deliver a lot of information in a short amount of time and give followers a taste of what to expect from your event. Plus, you already have access to pre-recorded content from your event that you can use to easily create these videos.
Rely on your speakers and employees to promote your event.
The more people post about an event, the greater the word-of-mouth marketing will be.
Your presenters and employees have their own networks, so give them all the details they need to become event ambassadors and share information with their own personal connections.
Provide them with marketing assets such as images, videos, tracking URLs, and video coverage of the event, so they can quickly share a variety of posts to their social media pages.
Also, create an event hashtag for people to use before and during the event to encourage communication and information sharing — anything you can do to create buzz around your event.
Track your marketing efforts.
Last, but certainly not least, remember to track your results. When you spend time and money promoting your event, you want to make sure you're getting traction from those marketing efforts.
Connect unique URLs to different social media platforms and outreach messages so you can determine where signups and event-related traffic came from.
Post-event Follow-up
Once your virtual event has concluded, continue to post on your event social media pages to engage with attendees. Follow up in a timely manner with an end-of-event email that includes promotions, contact information for the event team, and access to on-demand recordings. A survey is another simple way to get some first-hand feedback.
In short, keep the buzz going and leverage that enthusiasm for your next virtual event.
Do you have any tried-and-true marketing tips to promote virtual events? If so, share them in the comments below.
Are you ready to get started now?
We've collaborated with our association partners to think outside the box when it comes to planning world-class virtual experiences.
In our FREE white paper, Reimagining Events for the Virtual World, we include everything you need to know to plan, promote, and execute your next virtual event.