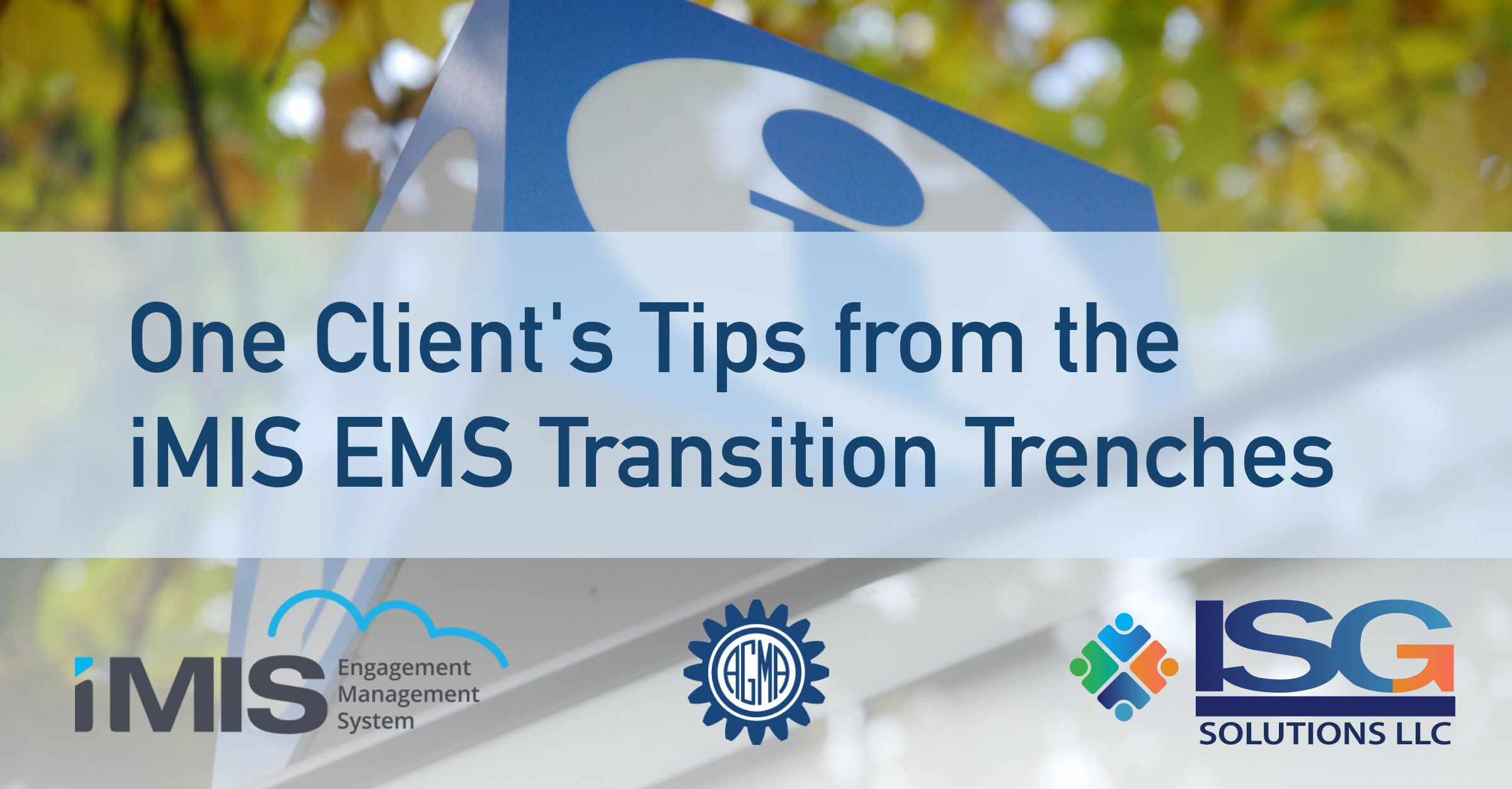 Providing information and resources that address customer queries or otherwise meet our clients' business needs is one of the most rewarding aspects of my job, which focuses intensely and almost exclusively on ISG's relationships with our clients.
One of the ways I facilitate this flow of information is by hosting Mornings with Megs, an informal group call with clients who have questions, want to talk about a particular topic, or are interested in what's new in the industry.
While we typically keep these casual conversations confidential, information sometimes emerges that has the potential to benefit a wider audience. This type of situation arose in a recent Mornings with Megs. We were pleased to have Jenny Blackford of the American Gear Manufacturers Association (AGMA) walk us through their experience making the transition to iMIS Cloud (now known as iMIS EMS Enterprise). And Jenny gave us some tips from the trenches that are simply too valuable not to share.
With Jenny and AGMA's permission, I'm now passing on to you several of Jenny's tremendously valuable tips surrounding each step of AGMA's iMIS EMS Enterprise journey: planning, implementation, and cloud capability.
Tips for a Productive Planning Phase
Jenny stressed how essential is it to have leadership buy-in and cross-organizational involvement from the outset. She noted that AGMA had to play catch-up later in the process because they hadn't initially brought all the impactful individuals and impacted departments on board — and that cost them both time and money.
With all relevant stakeholders assembled, it's critical to conduct thorough and robust discovery. According to Jenny, key questions to ask include:
What processes, functions, and/or products do you have with your current system?
Which of those processes, functions, and/or products work for you? Which ones don't?
What are your must-have processes, functions, and/or products?
What processes, functions, and/or products can you leave behind — or put on a wish list?
What new processes, functions, and/or products does iMIS EMS Enterprise offer — and which of those do you want?
Jenny related one of the consequences of AGMA's having cut short the discovery process — of not taking the time to ask enough questions, explore alternative business process options, or consider new cloud-based features. AGMA moved a large amount of legacy data Jenny isn't convinced brought any value, but which cost the organization significantly (in time and money) as they moved to the cloud.
Jenny's message: Do discovery right. Take the time to ask the questions and explore your options. Thinking carefully about your existing system will help you create a new system that better meets your actual needs.
Tips to Overcome Implementation Impediments
As with any big software project, planning for eventualities you can't anticipate is essential to success. Jenny noted that if you go in expecting the unexpected — factoring in almost-certain increases in time, money, and last-minute staff requests — you'll come out in a better place.
She also emphasized the importance of clear, continuous, and comprehensive communication with ISG. Being scrupulous about conveying expectations and reiterating requirements — in both directions — is imperative as you navigate the implementation phase to achieve an optimal outcome.
Jenny's other recommendation: Don't give outside vendors and other integrations short shrift. Dependencies aren't always obvious, and what you miss now will cost you later. (Note to the uninitiated: iMIS EMS Enterprise allows only Global Pay for credit card processing, so there's the first integration for your list.)
Tips that Cultivate Success in the Cloud
Jenny's top tips for this final stage: Test and train — and do so widely and broadly. Involve as many people as possible and ensure that the new system gets run through its paces from both the staff and customer perspectives.
At AGMA, myriad new requests came out of this stage. Jenny said the organization took the opportunity to expand the wish list created in the planning period, and they hope to add new features and functionalities in a future enhancement.
Also, Jenny reminded everybody to expect bugs in this step — and on an ongoing basis. ASI, like virtually every other software provider, implements automatic updates from time to time that can create new bugs even as they fix old ones. Have your IT folks at the ready and know that ASI support is up to the task.
The Bottom Line
Hindsight is 20/20 — and it's extremely valuable, as evidenced by these terrific tips that resulted from one association's transition to the cloud. We're enormously grateful for Jenny and AGMA's willingness to share their experiences and the wisdom. If you're interested in hearing more about AGMA's experience, want to start a conversation about what your own transition might look like, or have anything else on your mind, please reach out anytime: mshankle@isgsolutions.com. Helping make your business successful is my business.