Helping Governments Serve Citizens and Communities
From helping families prepare their young children for kindergarten to responding to disasters to initiatives that assist with energy costs, governments need technology solutions they can depend on and deploy without reservation. Which leads to the obvious question:
Who serves the people who serve?
ISG Solutions, a certified woman-owned small business (WOSB), provides technology solutions, cloud hosting, managed services, website design, and technical support to help our clients achieve their mission.
Founded in 1990, ISG sets itself apart from other technology businesses through our many years of experience, the tools we have built, and our proven implementation methodology.
Our capabilities include: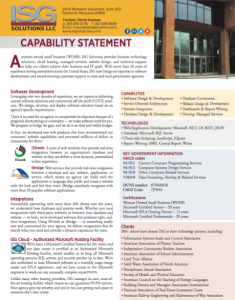 Technologies
Web & Application Development: Microsoft .NET, C#, REST, JSON
Database: Microsoft SQL Server
Client-side Scripting: JavaScript, JQuery
Report Writing: SSRS, Crystal Report Writer
Key Government Information
NAICS codes:
541511 Custom Computer Programming Services
541512 Computer Systems Design Services
541519 Other Computer Related Services
518210 Data Processing, Hosting & Related Services
DUNS number: 879849636
CAGE Code: 7JNH4
Certifications:
USWCC Certified Woman-Owned Small Business (WOSB)
Microsoft Certified Partner – 20 years
Microsoft SPLA Hosting Partner – 12 years
Microsoft Certified Professionals – 20 years
Contract Vehicles
What's next?
Contact Glen Oakley at 301-519-3776 or goakley@isgsolutions.com to discuss ISG's government services.