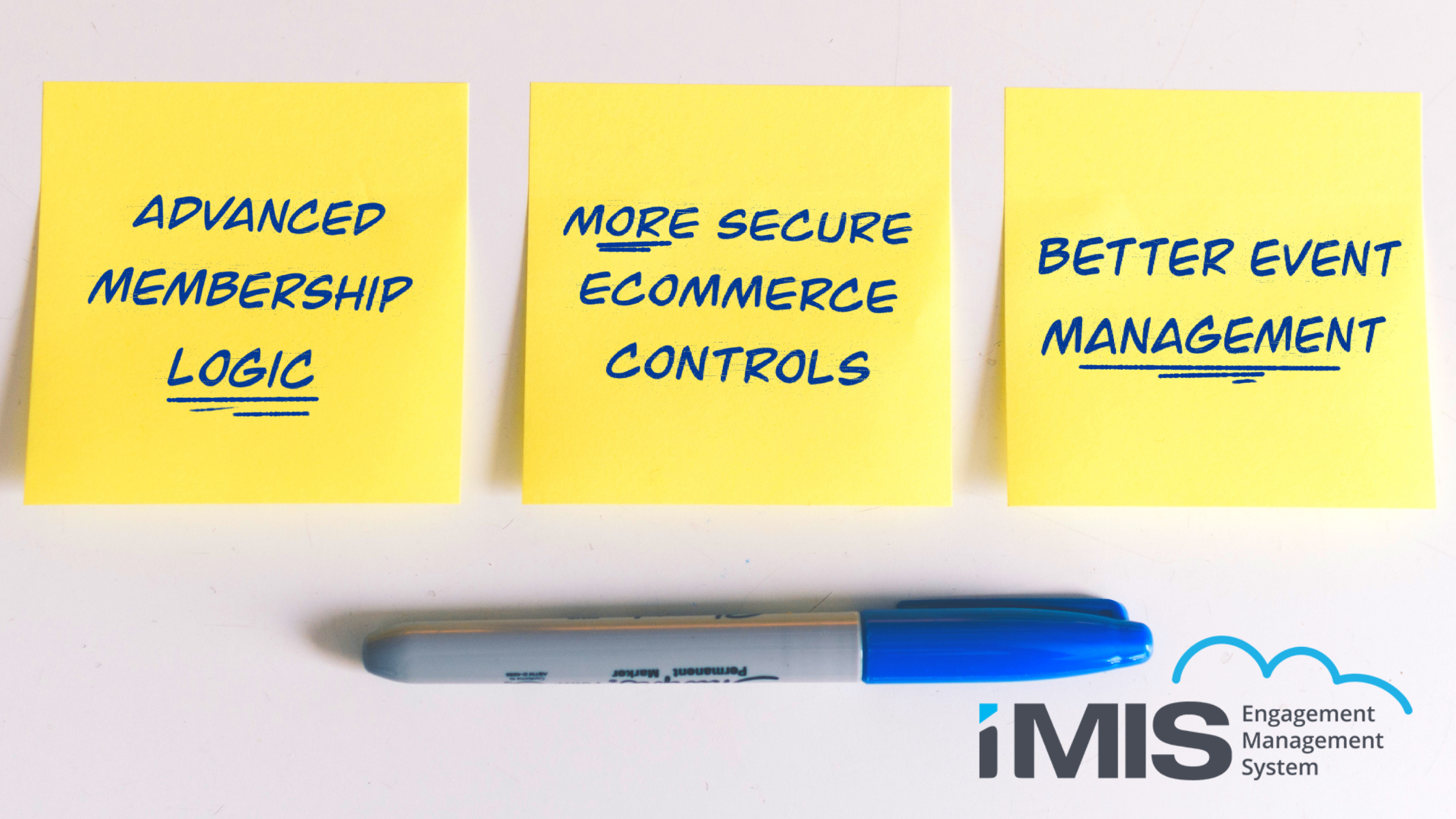 iMIS is the gold standard when it comes to association management software.
Designed specifically for associations, iMIS has your business logic baked in and manages everything from lead gen to financial reporting. The software's functionality is so vast, even some old pros aren't familiar with everything iMIS can do!
It's a full-featured system straight out of the box, and the fact that it's inherently tailorable to any organization has given associations myriad reasons to be happy with it for more than 25 years.
And now — it's transition time. Ready or not, here it comes: iMIS EMS Enterprise.
But there's no cause for concern. iMIS EMS Enterprise can do everything iMIS can do — and more. We want to highlight three fabulous new features in iMIS EMS Enterprise that are guaranteed to make your (association) life easier.
Feature #1: Advanced Logic Tool for Membership Joins and Renewals
iMIS EMS Enterprise boasts a powerful new logic tool that provides tremendous flexibility without the need to be an SQL expert.
A new user interface enhancement makes it easier for iMIS staff to configure complex pricing rules without knowing any code. Want to charge member organizations based on their number of employees? Or on their revenues? Want to bill member organizations quarterly? Or every two years?
iMIS EMS Enterprise allows you to establish pricing rules based on virtually any member demographic data element — like size or revenue — already in the system. And it lets you define membership terms.
Maximizing flexibility around membership pricing and terms? iMIS EMS Enterprise has you covered.
Feature #2: Better and Broader Tracking for Event Management
For associations already using iMIS for event registration, iMIS EMS Enterprise offers broad new functionality to track details like room arrangements, equipment, speakers, and support staff.
Think about it — How great would it be to have presenters tracked in the system you're already using for your events? To be able to look at prior years and see who spoke, or pull a report on everyone who has ever spoken at an event? To identify speakers who are also attendees at events?
This new feature saves you the time of tracking speakers (and other event elements) elsewhere and later importing that information into iMIS. It also saves you the expense of purchasing and maintaining a separate software tool.
Maximizing efficiency in both time and money around event management? iMIS EMS Enterprise checks that box.
Feature #3: Sophisticated and Secure Controls for Ecommerce Promo Codes
Although iMIS allows for ecommerce promo codes, concerns about security and misuse have, shall we say, dampened enthusiasm for their application.
Enter iMIS EMS Enterprise, which equips associations with robust new capabilities to create and control promotions. Want to give promo codes to sponsors? But only a certain number of promo codes, so you cap your maximum liability at the outset? Or do you want to provide a promo code to each of your member's CEO? But want to be sure that code is only used x times (x being the number of members you have)?
With iMIS EMS Enterprise, you can fashion promo codes around any data in your iMIS system — and police the use of those codes through flags set through the system.
Establishing strict ecommerce promo code rules — and ensuring their enforcement? iMIS EMS Enterprise puts you back in the driver's seat.
That's a Wrap!
You may have questions or concerns about the impending transition to iMIS EMS Enterprise — and we're happy to talk with you about that, anytime. But we want to be clear that the tradition lives on: With even greater functionality, including the features described above, iMIS EMS Enterprise is the new gold standard for association management software.
Curious about how these fabulous features might function in your association? Have broader questions about the upcoming transition? Leave a message in the comments or contact us directly. We're here, as we have been for more than 30 years, to help clients with the systems and solutions that make them successful.