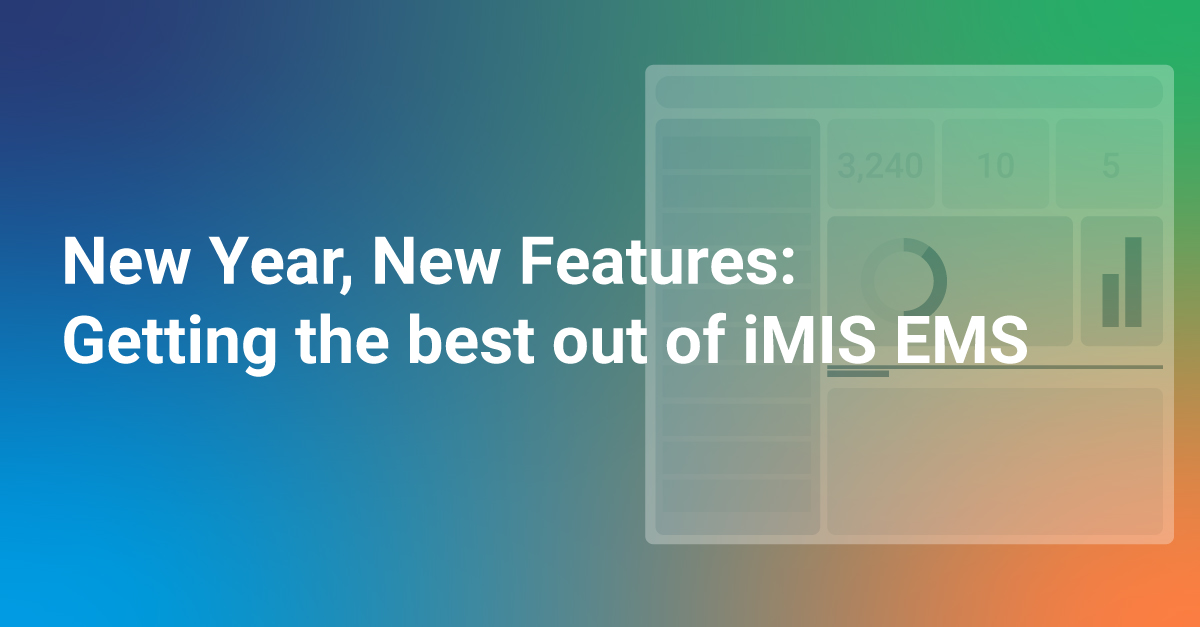 Whether you're a seasoned user of the iMIS EMS system or considering having your organization implement it, there are new features to take note of.

You don't need to be an IT guru to take advantage of some of the most robust features of iMIS EMS. And its latest features, which we are highlighting in this blog, demonstrate its simplicity and ease of use.

Report Writer Attachments

Prior to the most recent release of iMIS EMS, you could not attach iMIS Report Writer reports to iMIS email templates. With the latest EMS update, you can!

This new feature opens a whole new world for iMIS users, permitting you to attach invoices, membership cards, and much more with ease.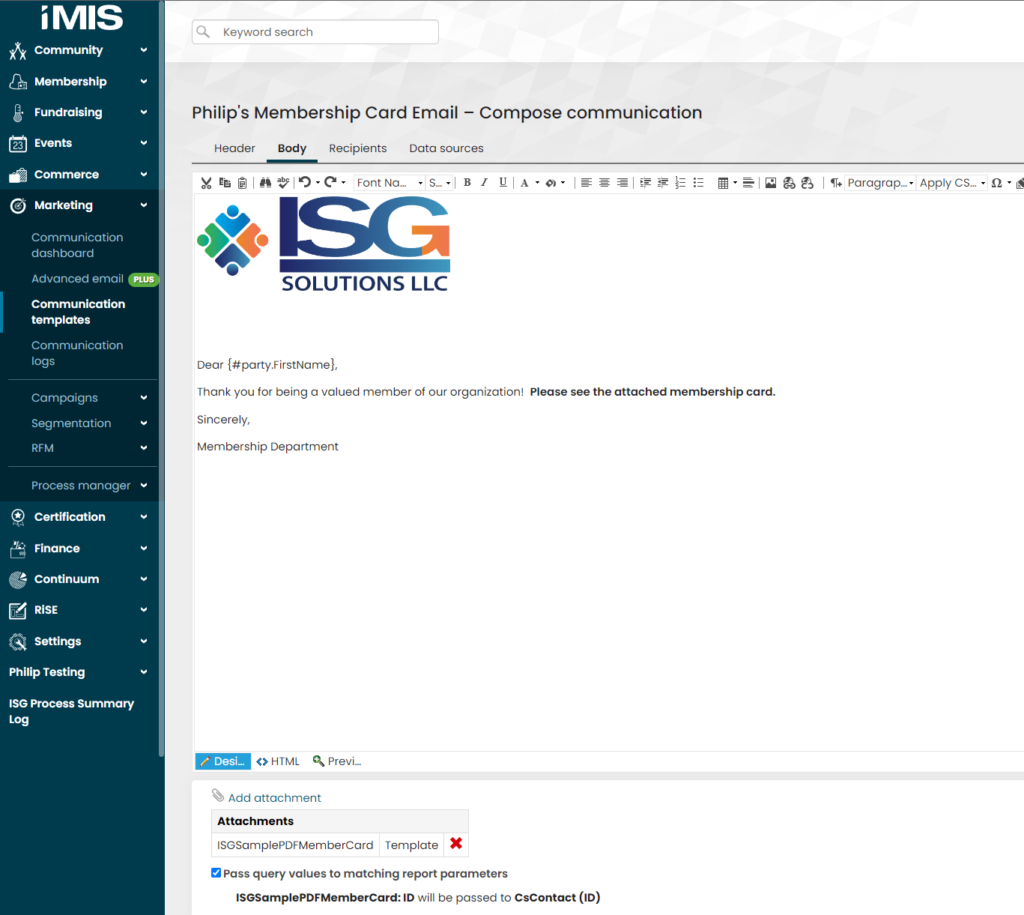 Report Writer Template
The second feature we want to highlight is the ability to use PDF templates! This allows you to output report data to a PDF template that is designed outside of the iMIS system.
To fully take advantage of this feature, you will need access to Adobe Acrobat Pro to create forms. Once you have this application, you can create placeholders from merged data.
Once you have made your changes and updates using the forms in Adobe Acrobat Pro, you upload the new version of the template into iMIS. You can then pull in the data fields you want and map them to iMIS to create your intended template. As you make changes, you can preview the report to ensure everything is accurate and to your liking.
Here is an example of this being used to generate member badges from a PDF template:


Applying CSS Code in iMIS RiSE
The latest update has taken the cumbersome effort out of applying CSS code in the iMIS RiSe system. Before this update, the process was so complicated that you almost needed an IT professional or developer to perform it. Gone are the days that you must access your iMIS server, find the code and edit it. Shew, what a relief!
To apply new CSS code, you simply need to acquire the code from your web developer, log in to RiSE, and go to Manage Websites, where you will see a new Custom CSS button. Drop your CSS code into this field and hit save and publish, and the changes will be applied.
This new, straightforward process makes it easier than ever to apply changes to your website through the system. The Custom CSS button is shown on the Manage Websites menu in the screenshot below: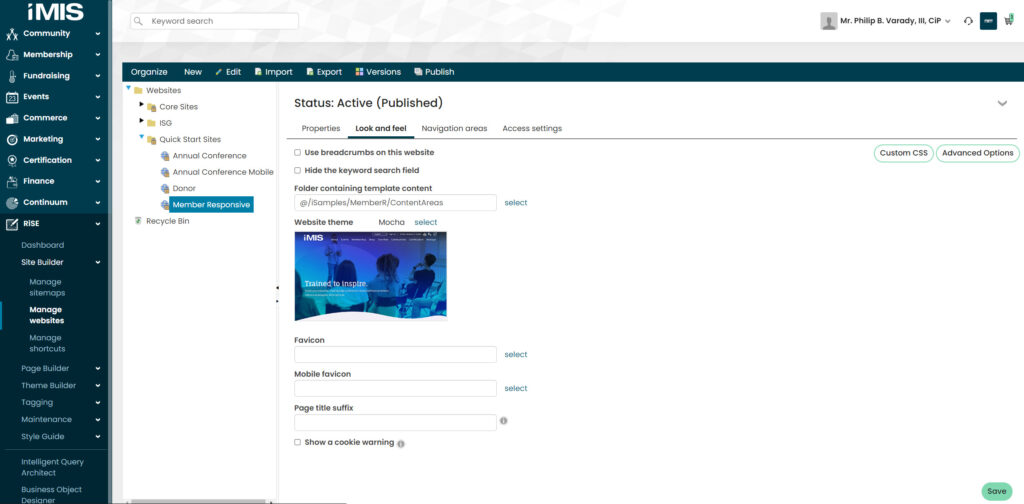 A New Way of Displaying iMIS IQAs
While this one isn't new to the latest release of iMIS EMS, we're not seeing a lot of people using it and it's too cool to turn a cheek to. The new IQA templates in iMIS allow users to pull in and create new interfaces, like card-style interfaces. Before this update, it took clever thinking, maybe some SQL code — and time — to create such an interface. Through iMIS EMS IQA, users can create a layout in html to create the look and display they want. The screenshot below shows the user interface for creating these displays that was added on the Template tab in the IQA editor: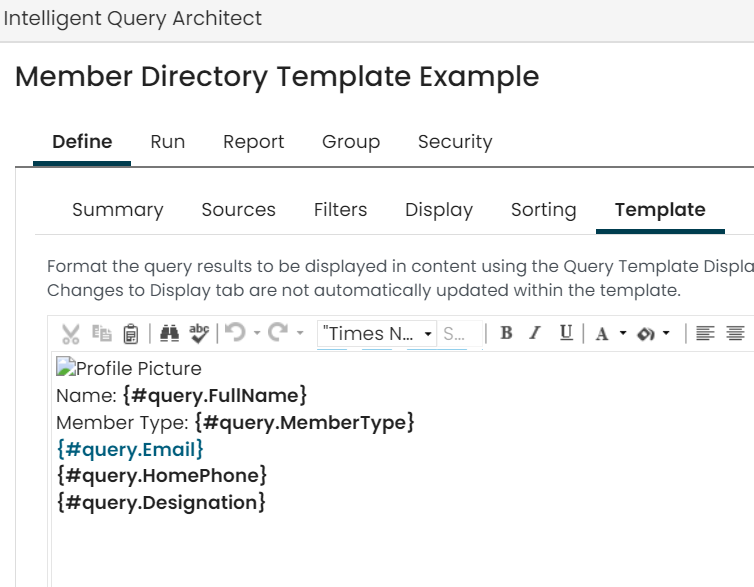 The versatility found in this new feature unlocks endless possibilities for users to create the display options they want, from directories to product listings. The next screenshot shows a quick and simple directory layout that was configured in just a few minutes using this approach: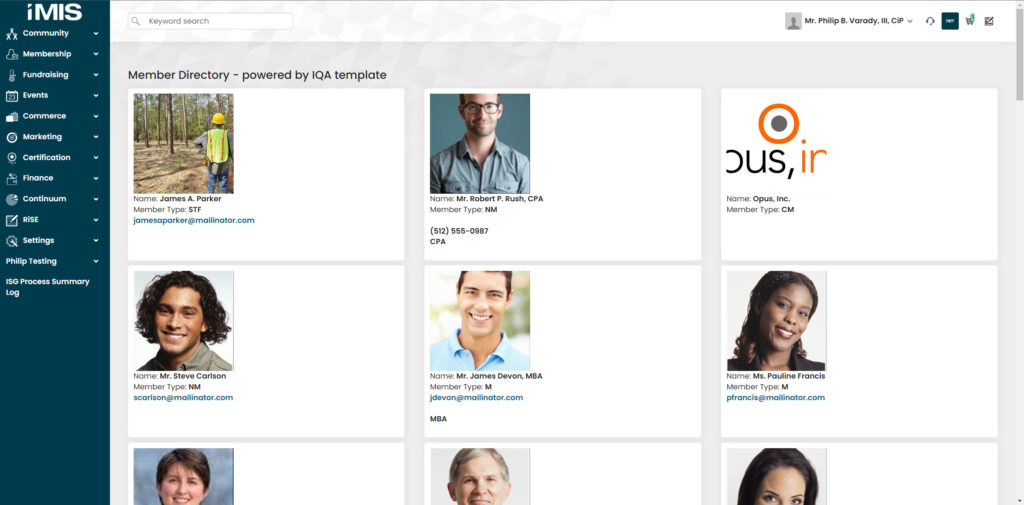 Whether you're a seasoned iMIS EMS user or you're still on the fence about implementation, these new features should get you even more excited about the possibilities or tip the scales in favor of taking advantage of its key benefits.
Learn more about how to implement iMIS EMS within your organization or how to utilize these features in the new year by contacting ISG to guide you through the process.