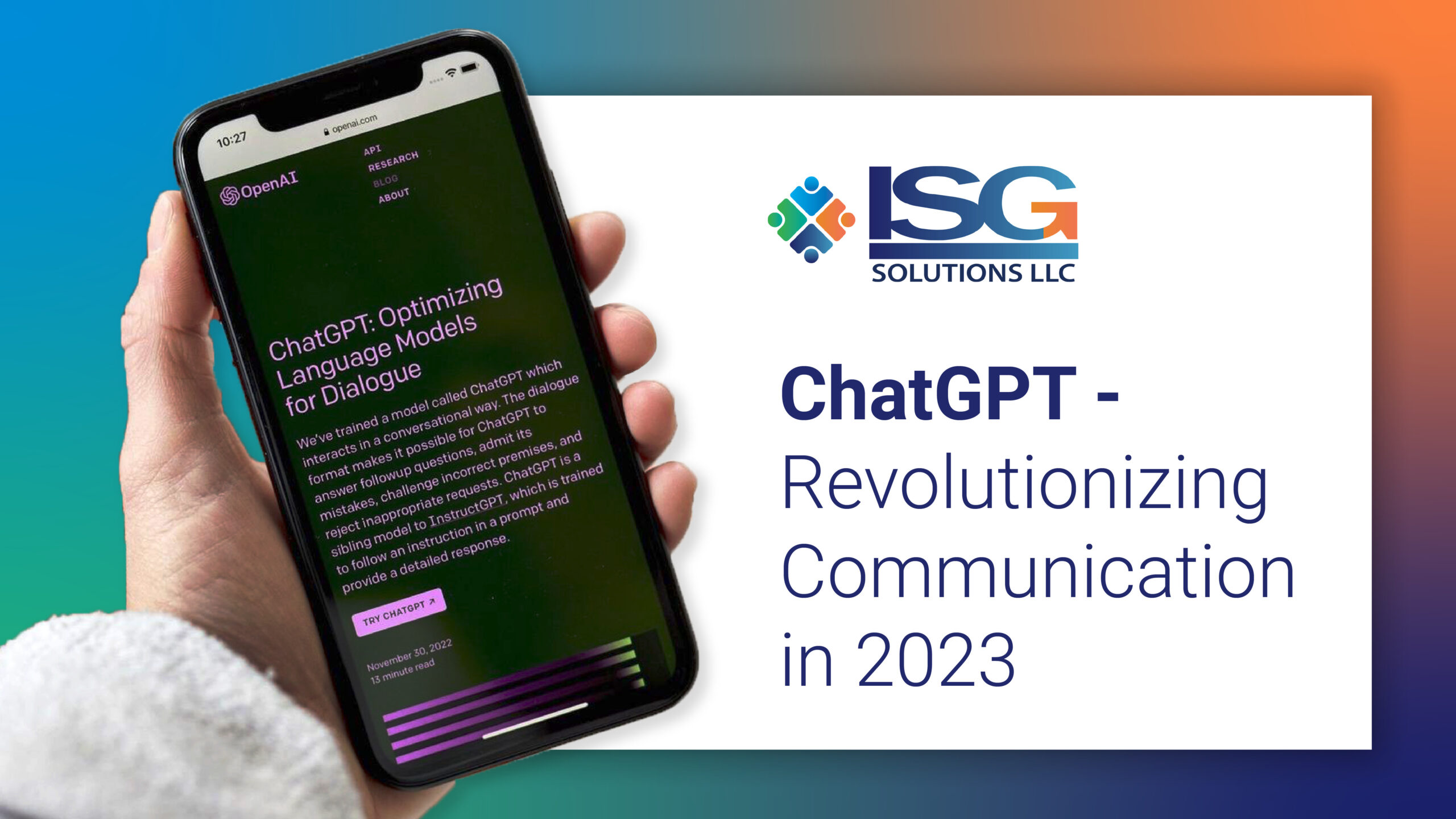 Brainstorming to Writing: ChatGPT's Powerful Potential for Associations
What is the newest buzz in the business community today? ChatGPT!
Everyone is talking about it, but what is it exactly and how can it impact associations now and in the future? ChatGPT is an artificial intelligence (AI) natural language processor. That means that you can actually have a conversation with it, ask questions, and make requests — and get answers quickly.
This new technology launched in November 2022, formulated by OpenAI, and has been backed by a $10 billion investment from tech giant, Microsoft. ChatGPT has attracted major attention because it has been recorded as the fastest-growing technology in history, crossing 1 million users in the first week that it launched.
So what's so special about this technology that is attracting so much attention?
An Excellent Writing Assistant
ChatGPT saves time and creates efficiency in the writing process by acting as your personal writing assistant.
Brainstorming
Use ChatGPT to generate topics for blogs, newsletter articles, or helpful emails to your members.
Start by telling it who you are (that is, who you want it to write as) and who your audience is. For example, "You are the CEO of a large trade association for global scientific and medical professionals dedicated to promoting the health and well-being of children. You are writing to doctors and scientists, and especially to pediatric medical professionals."
Next, ask ChatGPT to give you a list of issues that matter to your audience. Or, a list of what keeps them up at night or what topics or information could be valuable to them. Reword your question until you like the answers — or at least see a few that you think are meaningful.
Writing
ChatGPT is a great way to conquer the blank page of writing and help you out of a rut in any area of writing that may be difficult for you. After you have generated a list of topics, ask the AI tool to draft an outline of talking points or even write a first draft of a blog.
ChatGPT is not an eloquent writer, but it can help generate ideas to spark your own creativity. You will never use exactly what it gives you, but it can move you forward in your writing process.
Another way to spark your creativity during the writing process is to ask ChatGPT to write in a specific style. You can ask it to be humorous or more technical, and it will respond in kind. There is no limit to what you can ask or experiment with as you are interacting with the application.
Important Elements – Faster
Subject Lines and Titles: Creating good subject lines and titles for content often becomes an obstacle for writers, and ChatGPT is great at providing ideas. You can enter keywords or paste your content – even an entire blog – into ChatGPT and ask it to write multiple titles or subject lines.
Hooks and CTAs: ChatGPT will also help develop hooks, closes, and calls to action for your content. You can ask for "an introduction" or get more specific with "an attention-grabbing intro" or "a storytelling intro" or even "a joke or funny intro" (though its sense of humor may not match what you want). For closes or calls to action, tell the AI what next step you want readers to take. You can also specify the tone (helpful, salesy, educational). You'll be amazed at how quickly ChatGPT will generate answers.
Polishing: Use it to plug any holes in your process. Upload your content and ask ChatGPT to tell you what is wrong or missing. It will have opinions and suggestions. Of course, you will need to rely on your experience in the industry and knowledge about members to add depth and richness to what ChatGPT provides. The AI provides a good first draft, but it will rarely give you exactly what you want to publish.
Best Practices
As you communicate with ChatGPT, be mindful of the tool's limitations and use these best practices:
When asking questions, it's important to know that the free version of ChatGPT does not have access to data after September 2021. Therefore, if you are looking for data that is recent, the results will not be accurate unless you upgrade to the paid version, which currently costs $20/month.
When you give instructions or ask questions, be as specific as possible. The more specific you are, the better results you will receive. Good information in will likely yield good information out. For example, you can ask ChatGPT something like, "Why are association members joining and not staying?"
Remember that ChatGPT is new technology, which means it has glitches. Given the number of people using the free version, the servers are often busy, so if you are unable to get in, try to use it during off hours when fewer people are working. If you decide that your usage will be frequent, the paid version is always available.
If you are working on a project in ChatGPT, don't rely on it to save your history. Always copy and save your work in another document.
More Ways Associations Can Utilize ChatGPT
Social Media Engagement
Crafting social media content on a consistent basis is often an overwhelming, yet necessary, task for association professionals. Use the power of ChatGPT to generate engaging content for your social media, fostering a sense of community. You can also use AI to monitor trending topics on your social media, enabling you to address the direct concerns of your members and engage accordingly.
Member Surveys and Feedback Analysis
Associations thrive on the feedback they receive from their members through surveys. AI can assist you in designing those member surveys, gleaning insights and trends to guide your strategic decisions to strengthen member satisfaction.
AI-Powered Chatbot
Save time by integrating an AI chatbot into the website or member portal to provide instant support to members. Your chatbot can answer questions members frequently ask, provide guidance on membership benefits, direct members to resources on a particular topic, and more. This is a great way to enhance the member experience while saving time and resources with your staff.
Personalized Content
AI content can be used to deliver personalized newsletters, email campaigns, or resources tailored to the needs and interests of your members. This will continue to improve member satisfaction and provide them with the most up-to-date, relevant information on the association.
Event Planning and Management
Simplify the event planning process by using AI to automate various event tasks such as sending personalized event invitations, managing RSVPs, or creating agendas. AI can also capture member preferences and suggest relevant topics or speakers for your events, further enhancing the member experience.
Getting Started in ChatGPT
To start using ChatGPT, click here or google OpenAI ChatGPT. You have the option to sign up for a free or paid account. The paid version is $20/month and delivers faster response times and access to GPT-4 (compared to GPT 3.5 for the free version).
No matter what version of the program you choose, it is worth experimenting with this new technology to improve time and efficiency in the development of your association communications. ChatGPT isn't an industry expert or experienced writer – but it's a very handy, useful tool for ideas and speed when used by someone who is.