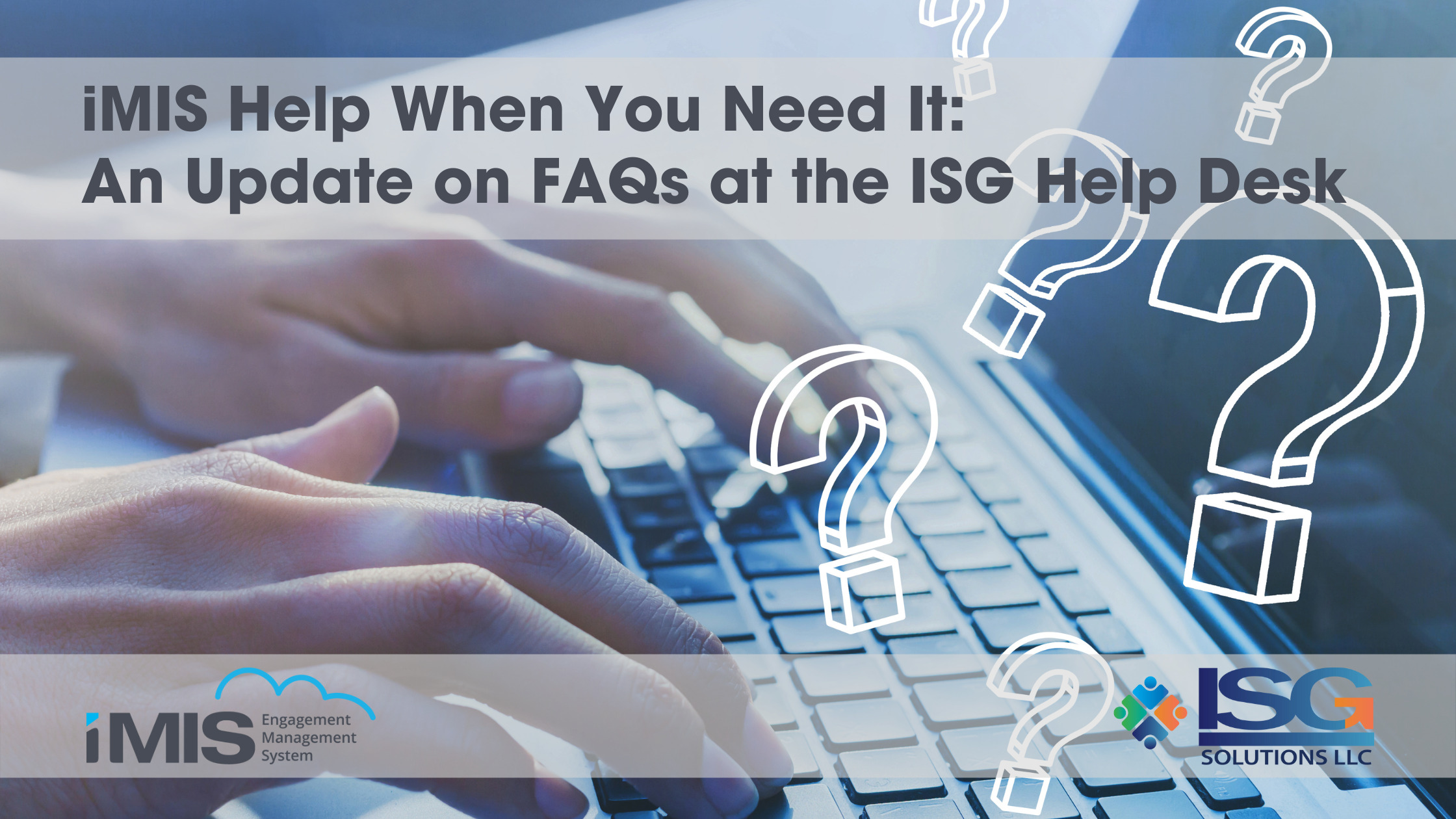 It's safe to say that almost every organization that uses technology needs help with it. With software transitions, new versions, and updates, there is almost always something to figure out in order to get the job done. Yes, help please!
When iMIS users encounter a challenge, they can also face the issue of accessing support in a timely manner. In today's environment of tighter budgets, associations are often short-staffed, especially on the technology side, and don't have as much internal IT support as they need. And, while some companies offer support, their users must submit a ticket and wait for a response. In the meantime, users are stuck. Waiting.
ISG customers, on the other hand, can rely on the ISG help desk to respond within a guaranteed 2-hour window. Available Monday through Friday from 8:30 am to 5:30 pm ET, the ISG help desk is always staffed with 2+ full-time, Certified iMIS Professionals (CiPs), armed with the knowledge and experience to solve customer challenges and requests.
A couple of years ago, we asked our help desk team about the kind of requests they were getting, and our clients were interested in seeing how popular different issues were. We thought this would be a good time to do an update, since so many associations are making the move to iMIS EMS.
Our team says that now, most of the requests they field fall into one of three areas: reporting, accounting, and data cleanup.
Reporting
Reports, anyone? Whether it's for internal staff or board members, associations need to be able to access information from their database, so they can report quickly and consistently. iMIS EMS offers robust features that enable users to create reports, queries, forms, and dashboards – and everything lives in one central place.
With iMIS EMS, associations have immediate access to standard dashboards. The ISG team can customize the out-of-the-box dashboards, so these deliver the specific information users need, including a multitude of engagement data.
Do you need a report or form created? The help desk team provides this service to their customers — for those who use EMS and for those who have not yet moved to it. And though EMS doesn't support Crystal Reports or SQL, the ISG team can use IQA queries to access and configure data in the format users want. For example, we can build a report based on a search of a variety of membership engagement data (attended events, participated in committees, bought books and other products, etc.).
Of course, ISG also helps clients transition to and build reports using the new iMIS Report Writer. In fact, the help desk not only solves specific problems for customers but also provides one-on-one training to help customers become more confident in utilizing the report writer.
Accounting
One of the biggest changes in moving to iMIS EMS is that accounting is now a fully web-based system. The transition means improved financials and accounting, but it also means learning new processes. For example, reconciliation and refunds are done differently in the new system.
Our help desk guides clients in learning the new processes and ensures that the accounting system and iMIS EMS are aligned. They also help users reconcile correctly, make refunds, and manage other accounting activities. And, the help desk assists with reconciliations and end-of-month accounting.
Data Cleanup
When you bring together data from disparate systems, data hygiene issues occur. The problems are truly inevitable, and the importance of cleaning data as part of planning your move to EMS cannot be overstated.
To avoid bringing garbage data into your new system, EMS has a duplicate checking tool that is very useful, as is iMIS Contact Merge Plus, which helps clean data and is more sophisticated than some older import tools.
The ISG help desk experts bring years of experience and employ the latest technology for cleaning data, so you can trust the information in your iMIS database. They use CSI's data management suite, which works with iMIS 2017 and iMIS EMS, and offers the most sophisticated import technology.
Expert iMIS Support When You Need It
A value-added service for ISG customers, the help desk can address issues with any version of iMIS — whether you are already an iMIS EMS user or in the planning stages of migrating. Staffed with Certified iMIS Professionals and available when you need them, the help desk team can solve your software challenges, so you can focus on serving your members.