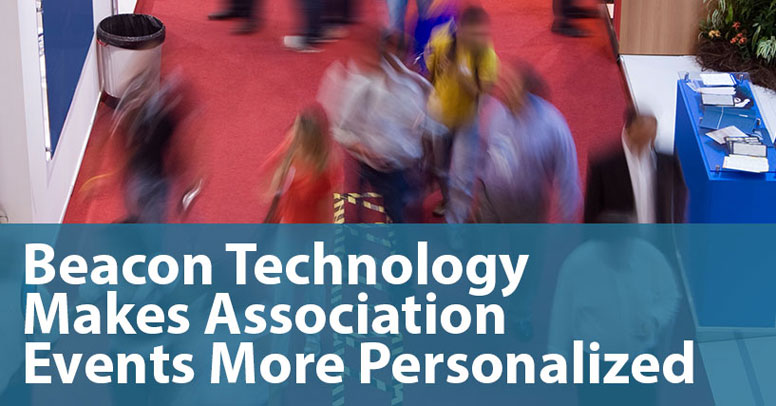 Technology has become downright personal. It tells us what to do, where to go, how to get there, and much more. The vastness of the world wide web has boiled down to our own small devices that speak directly to our specific needs and interests.
This is the world association members live in. The challenge is to meet people's expectations for a personalized, technology-rich experience and add value for members. To this end, associations should bring beacon technology to member events, from smaller-scale education events to large-scale trade shows.
The Benefits of Beacon Technology
Picture this experience for your members at your next event: They register online or onsite. Either way, their badge is ready for them when they arrive.
While they attend, they are prompted to attend sessions and activities that are highly relevant to the interests they added to their profile. They are also directed to where they can find collateral material pertaining to their interests.
Attendees are prompted to meet specific people at the event who match their profile interests. As they move around the event their interests are compiled and compared, and they are notified of other attendees in the area who are concerned with the same topics. LinkedIn and other social media details are shared, and a meeting spot is arranged!
In addition, attendees are guided to meet vendors that offer tools they need. As they near the association sales area, they are offered a discount!
The printed venue map is irrelevant. As attendees approach beacon-enabled signage, they receive custom messages that share information about the location of their next session or appointment, or present an offer from a nearby exhibitor.
Attendees are guided to their next session or to a specific trade show booth. Directions are specific to their exact location and updated in real time.
Vendors, presenters, and organizers learn who attends each session and/or visits their booth. Within minutes they have complete profile information that allows them to follow up. They, too, are able to customize what they offer because they have a deep understanding of who they are interacting with.
Beacon technology can deliver these benefits.
Beacon Technology Explained
Beacons are low cost, low power transmitters equipped with Bluetooth Low Energy (BLE) technology. Beacons transmit BLE signals that are then read by other Bluetooth-enabled mobile devices and are used to detect proximity and determine micro-location.
Unlike other location-based services such as GPS that leverage latitude and longitude values to determine the exact location of a device, beacons determine the relative location of a device based on its proximity to the beacon hardware.
Beacons don't transmit content. Instead, they transmit a series of identifying numbers. This transmitted signal is then decoded by a mobile device to identify the beacon and determine the device's proximity to the beacon based on the signal strength of the transmission.
Comparing iBeacon and Eddystone
The two major types of beacons are iBeacon from Apple and Eddystone from Google. Both devices utilize Bluetooth Low Energy (BLE), which is a part of Bluetooth 4.0 specifications. Both are compatible across Android and iOS devices.
Both types of beacons are fairly small and are meant to be placed around a space to create a network within which mobile device users can receive information as they come into proximity with various beacons in the network.
Apple's technology standard, iBeacon, allows mobile apps (running on both iOS and Android devices) to listen for signals from beacons. iBeacon is a beacon protocol that has been built into Apple's iOS 7 and later versions of mobile operating system that allow iPhones and iPads to constantly scan for Bluetooth devices nearby.
Google's Eddystone is a beacon protocol for open-source beacons, which can be manufactured by any business at an affordable cost. Eddystone beacons use the Chrome browser to transmit content and allow for proximity interactions without the need to have a native app.
Integration Is Essential
Associations can make beacon technology even more powerful by integrating beacons with existing tools, such as iMIS and event management software. Gathering data for enhanced member experiences is cool; integrating that data into the systems that run your business is awesome.
That has been the experience at NAREIT. ISG has been providing iMIS support to NAREIT for more than 10 years. Recently, we integrated iMIS with Cvent event management software and its associated beacon technology.
Education conference attendees are issued badges with chips that are read by the beacons. Tracking attended sessions is as easy as a tap of the badge, and the data collected is written into iMIS. Within days of the event, attendees get their certificates for CLE and CE credits.
While attendees were concerned at first, members have now embraced the technology and there's no looking back, according to Afia Boone, Director, Membership & Meetings at NAREIT. She added that the beacons, paired with Cvent and iMIS, replaces 1 to 2 months of effort by members and association staff members.
"Previously we had a form that was sent to attendees. They'd have to complete the form, recalling what they attended at the event. We'd get the forms and manually input information," Boone said. "Now it is all done in less than a week. We'll be using this technology for years to come."
The integration with iMIS makes onsite registration more efficient, too. There's no lag time in the sharing of data from onsite systems into iMIS, so attendees receive their credentials immediately.
Enhancing Member Experience and Protecting Privacy
You are not alone if you think this technology feels a bit invasive. It constantly tracks your movements. Although the beacons themselves do not collect any information, they can trigger applications that do collect information.
Help your members use the technology wisely. Explain what information will be collected, how it will be used, and why, before they ever set foot at the event.
Let attendees know the benefits of beacon technology and how it can personalize the event for them. Email, event materials, and signage at the event can all be used to make sure everyone understands this aspect of the conference.
Of course, it is important to offer an alternative. Provide an option to not be tracked. You will also need to be able to accommodate attendees who aren't properly tracked. They will need a process for getting credit for sessions attended, sharing information with vendors, and receiving the materials they want.
Add Value with Beacons
Attendees are looking for personal experiences at your events. Beacon technology allows you to move in that direction. By using beacons at your event, you can improve the experience while also increasing engagement.
The true benefit of adopting beacon technology is that it will add value to membership in your association, directly impacting events and leading to greater interest in all that you offer.