ISG Solutions Honored with Partnership Award and Recognition By Advanced Solutions International
Rockville, MD (May 20, 2008)—Advanced Solutions International (ASI), the leading global provider of software for associations and non-profits, has awarded its prestigious Fundraising Solution Provider of the Year Award to ISG Solutions. ISG Solutions was also inducted into ASI's Chairman's Circle for 2007 – an honor awarded to top performers within the Authorized iMIS Solution Providers (AiSP) channel.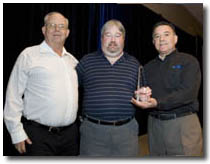 "The Fundraising Solution Provider award is presented to a company that demonstrates superior knowledge and delivery of fundraising solutions in the marketplace, and excels in creating solutions of value for its customers," said John Benda, vice president of sales and marketing for ASI.
"We are very proud to be recognized by ASI with these awards," said Terrie Noonan, president of ISG Solutions. "For many years we have been committed to delivering the highest quality solutions to theiMIS community, and it is an honor to have that dedication rewarded by ASI." ISG Solutions has received the Chairman's Circle award 12 times in the past 13 years, she noted.
ISG Solutions received the awards during ASI's 2008 iNNOVATIONS Conference in March 2008 in Bethesda, Maryland. The conference focused on the iMIS community and emphasized ASI's appreciation for its partner channel and their contributions to the nonprofit community. Explained Benda: "We believe that the work of non-profits is of vital importance to the world. Our software allows these organizations to focus on their mission, not their technology, and achieve great things. We're proud of the difference our customers are making in the world and the role our products and services play in their efforts."
About ISG Solutions
ISG Solutions develops, sells and supports software for associations. ISG's flagship product is ISGweb for iMIS, a suite of Web-based software modules that extends iMIS, allowing associations to take advantage of the information stored in theiriMIS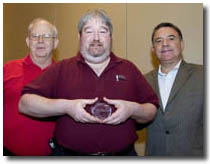 database to provide better service to members on their websites. ISG also implements and supports the iMISassociation management software, and is one of the largest Authorized iMIS Solution Providers (AiSPs) in the world. More than 300 clients have chosen ISG as their technology partner. ISG Solutions is headquartered in Rockville, Maryland, and maintains a website at www.isgsolutions.com.
Contact: Phil Varady, Vice President, ISG Solutions, 301-519-3776 x148, pvarady@isgsolutions.com