ISG Solutions Wins 13th Chairman's Circle Award at ASI's Annual iNNOVATIONS Partner Conference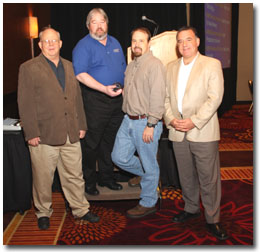 Don Robertson and Bob Alves congratulate
Phil Varady and Glen Oakley
Rockville, MD (May 14, 2009)—Advanced Solutions International (ASI) has appointed ISG Solutions to its Chairman's Circle, an honor awarded each year to its top-performing partners. The announcement was made as ASI concluded its 11th annual iNNOVATIONS partner conference in Austin, Texas, which was attended by more than 160 ASI partners and employees.
"We are proud to have our dedication to the iMIScommunity acknowledged with this award," said Terrie Noonan, president of ISG Solutions. "We have been an Authorized iMIS Solution Provider for 14 years now, and this is the 13th year we have been appointed to the Chairman's Circle. It has been a pleasure to be part of the iMIS community's strong growth over that time and we look forward to many more years of exciting innovation with iMIS."
About ISG Solutions
ISG Solutions develops, sells and supports software for associations. ISG's flagship product is ISGweb foriMIS, a suite of Web-based software modules that extends iMIS, allowing associations to take advantage of the information stored in their iMIS database to provide better service to members on their websites. ISG also implements and supports the iMIS association management software, and is one of the largest Authorized iMIS Solution Providers (AiSPs) in the world. More than 300 clients have chosen ISG as their technology partner. ISG Solutions is headquartered in Rockville, Maryland, and maintains a website at www.isgsolutions.com.